Sale!
Woraiyur Vekkaliamman 16 Inch (P/M)
₹3,200.00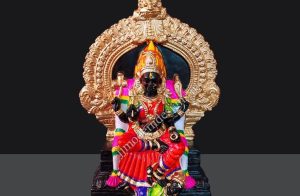 Woraiyur Vekkaliamman
Vekkali Amman Temple is a temple dedicated to the Goddess Vekkaali, a form of the goddess Kali. It is located in Woraiyur, a neighbourhood in Tiruchirappalli, Tamil Nadu, India. The central shrine of the temple houses the image of Vekkali Amman and the major feature of the temple is the absence of roof over the sanctum. The temple is known from the period of early Cholas, but there are no historical records. The people of Woraiyur see Vekkali Amman as their guardian deity. The temple has six daily rituals in its calendar and celebrates six annual festivals. The temple chariot is made of gold and was launched during 2010. The temple is maintained and administered by the Hindu Religious and Endowment Board of the Government of Tamil Nadu.
Compare
Related Products
desktop-columns-3 tablet-columns-2 mobile-columns-1

Availability: In stockOut of stock